Welcome to David Rubel's
Home on the Web

A nationally recognized author, speaker, and historian, David writes enduring books of American history. His collaborators have included Pulitzer Prize-winners Joseph J. Ellis and James M. McPherson, Archivist of the United States Allen Weinstein, and President Jimmy Carter.
On this website, you can learn more about David and his books. You can watch or listen to interviews that he has given in the past and read his blog to follow his current work.
David's Most Recent Book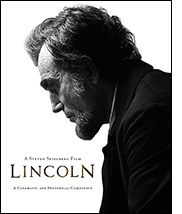 Lincoln
A Cinematic and Historical Companion
Text by David Rubel
with forewords by Stephen Spielberg and Kathleen Kennedy and an afterword by Tony Kushner